NAS Expands Commercial Property Management Portfolio
National Asset Services Expands Nationwide Commercial Property Management Portfolio with Addition of Ohio and Texas Properties
National Asset Services has expanded its nationwide commercial property management portfolio with the addition of a multifamily asset in Dayton, Ohio and a retail property near Houston, Texas.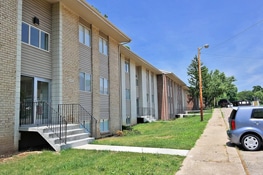 Dayton, Ohio–NAS has assumed asset management responsibility for a 351-unit, 302,755 square-foot multifamily property located about 4 miles northwest of downtown Dayton, Ohio. National Asset Services executives will oversee the latter phases of an extensive property redevelopment project to lease-up and beyond. Recently re-named The Bridges of Pine Creek, the property consists of 351 units, with over 85% of the living spaces being two bedroom flats or town homes.
Uniquely designed to feature three distinct neighborhoods, the low-rise garden apartment community includes a bark park, fitness trail, new playground, on-site laundry, secured entry and 24-hour emergency maintenance.
Baytown, TX–National Asset Services has been named the commercial property management company for a 30,038 square-foot, big box retail property occupied by Best Buy, a multinational consumer electronics corporation headquartered in Richfield, Minnesota. NAS assumes property management and asset management responsibilities for the property located approximately 25 miles east of downtown Houston in Baytown, Texas. The building, constructed in 2005, is situated on a five-acre lot with 216 parking spaces.
"We look forward to maximizing performance at both properties. Both assets are a perfect fit with our commercial property management team's core experience and skillset," commented Karen E. Kennedy, President and Founder of National Asset Services. "Investors will benefit from our company's strong position to strategically leverage our nationwide resources in the commercial real estate industry."
National Asset Services provides commercial property management for a wide range of diverse commercial real estate: Office, medical office, multifamily, retail, student housing, assisted living and industrial flex properties and a championship golf course.